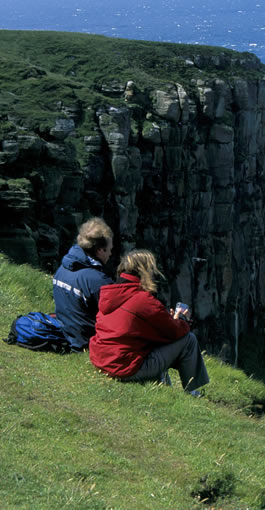 Cliff Scenery
Resources
The Caithness Biodiversity Collection is set of over 400 images of the wildlife, landscapes and land uses of Caithness. The collection is available to anyone – communities, businesses, organisations, agencies or individuals – to use, as long as the images are not profited from directly. They are accessible in both slide and digital formats, from Marina Swanson, the Caithness East Ranger, Seadrift Centre, Dunnet (Tel: 01847 821531) or Ian Mitchell, Scottish Natural Heritage, Main Street, Golspie (Tel: 01408 633602). Digital pictures are available as TIFF approx 18 megabytes or jpegs approx 1 megabyte in size.
The photographs were taken over a 12 month period. The photographers were Ken Crossan and Iain Sarjeant who drew the project together. Sue Scott contributed underwater photographs and Keith Ringland a few to fill in gaps.
Document Library
Locally authored and other relevant documents can be found here
Databases
A number of Caithness IBA Edition databases in the form of Excel files are available for you to download below.
Fungi (22kB)
Plants  (32kB)
Animals (20kB)
Birds  (40kB)
Cetaceans (19kB)
Fish (18kB)
Habitats (22kB)
Invertebrates (17kB)
A map detailing the location of the items inside those database can be accessed here.
Images
To find images on this site you can either choose a category to browse from the menu on the left, or type some keywords into the search form below.
Search Images